Dave Kyllo
We have all watched the devastating mudslide in Oso, Washington on television. One of our members and our Washington affiliate notified us that an employee who works at two member assisted living communities has been devastated by the mudslide. Jonielle Spillers lost her home, her husband and three of her four children. The communication below from our Washington affiliate explains it all. This is an important time to show our support for Jonielle with our thoughts, prayers and wallets.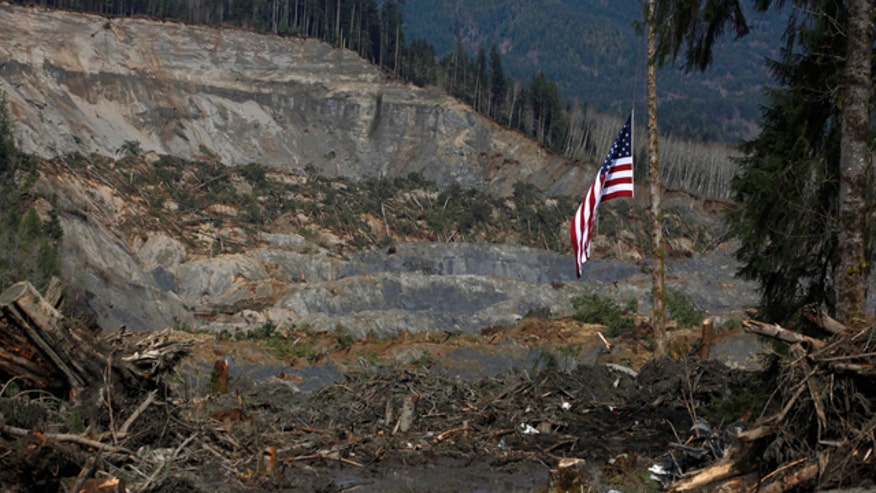 March 31, 2014: An American flag hangs from the only cedar post left standing at the scene of a deadly mudslide in Oso, Wash. (AP Photo/The Herald, Sofia Jaramillo, Pool)
-----
Many of us have followed the news of the mudslide that took place in Oso, Washington, last weekend. The story is close in some ways and yet so far away in others. Little did we know until today, this story has hit very close to home.

One family tragically impacted by this catastrophic event is that of Jonielle Spillers, an employee at Cascade Valley, an assisted living community in Arlington, Washington. While caring for the residents she serves, Jonielle's family was devastated by the mudslide. Her four-year old son was narrowly rescued, but her husband and three other children are missing, presumed dead, and her family home was destroyed. The heroic rescue of her son has been shown on CNN.

Cascade Valley is owned by Milestone Retirement Communities, and they have established a fund to support Jonielle and her son, Joshua, who are currently staying at a shelter. They have lost everything. We want to provide information to all of our contacts in the long term care community on how you can support Jonielle and Joshua as well. If you would like to make a contribution, you may do so at any US Bank. Simply drop into a branch near you and utilize the account name and number below or mail your contribution to the address provided:



"The Jonielle Spillers Family Fund"

The Account Number is 153564726179




US Bank

Fisher's Landing Office

PD-WA-4577

16415 Se McGillivray Blvd

Vancouver, WA 98683
At times like these, we reflect on just how much people matter—how different life could be if we lose those we love. We encourage each of you, as a community, to surround this family and support them during this time of loss, uncertainty, and sadness. We, as a community, can be strength and help to this family. WHCA will be making a contribution to support this family—part of our long term care family—and we hope you will consider doing the same. Our thoughts and prayers are with Jonielle and Jacob and all of those touched by this tragic event.