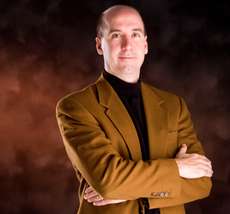 Attendees at this year's NCAL Day get a double-dose of inspiring keynote speakers:
Nina Easton
will open this year's NCAL Day, and Jack Uldrich will wrap up the event. Uldrich is a renowned global futurist, scholar and business speaker. With a vision towards future business models, Uldrich assists companies and organizations in preparing for future trends, innovation, change management and leadership. He has served as an advisor to Fortune 1000 companies and continues to advise thousands across the nation as a guest expert, author and public speaker.
Uldrich's has written several bestselling titles, including Jump the Curve: 50 Essential Strategies to Help Your Company Stay Ahead of Emerging Technologies; The Next Big Thing is Really Small: How Nanotechnology Will Change the Future of Your Business; and most recently, Foresight 2020: A Futurist Explores the Trends Transforming Tomorrow.
With his leadership, expertise and provocative ideas, Jack Uldrich will lead NCAL Day attendees into the future of business development and change. For more information on Jack Uldrich, visit his website at
http://jumpthecurve.net
.